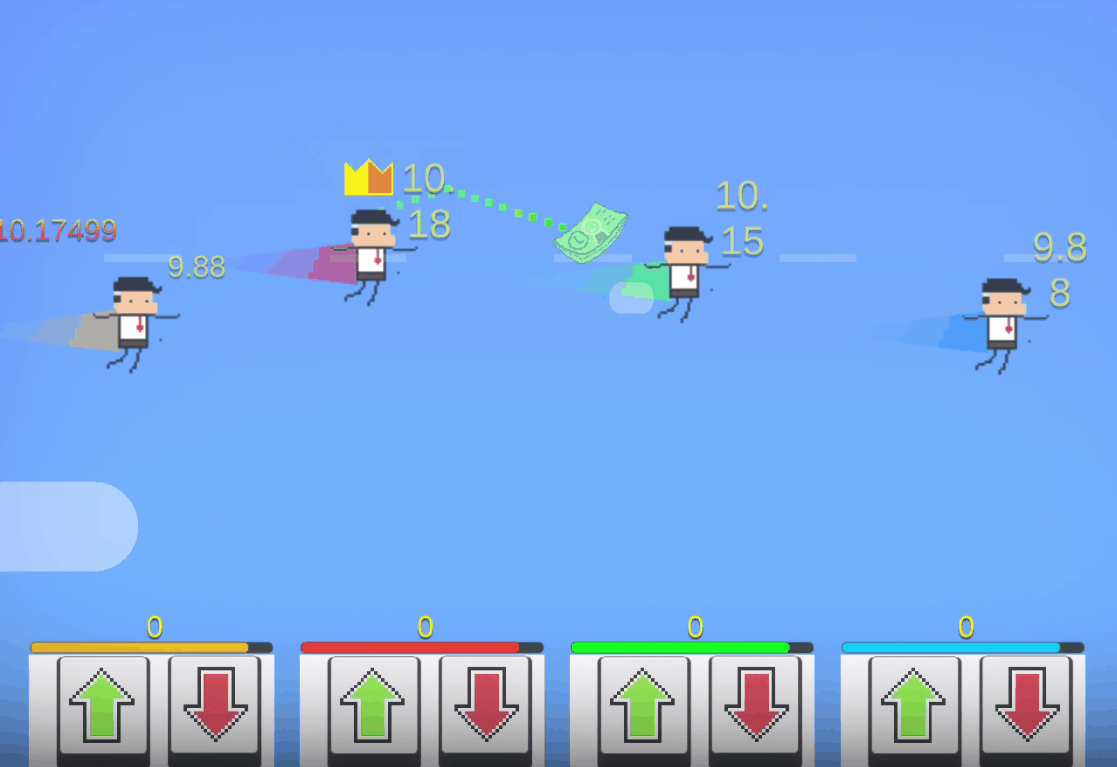 Long time no see ! Just a little note to show you my latest mini game from the famous Ludum Dare Game Jam. It's a multiplayer social satire when you've get to bet on the LifeCoin (life price index). The highest player takes it all !
Theme : Your Life is currency
Duration : 24h
LudumDare Link : https://ldjam.com/events/ludum-dare/44/lifecoin-race/
Itch.io Link : https://loganou974.itch.io/ludum-dare-44
When my friend Guimero told me he was participating the Ludum Dare 44 this week end i was like "meh i forgot this year and i'm busy". But when a few friends started to brainstorm on the discord i was so excited that i built a prototype while my daughter was asleep.
It was really fun. It was Satursday afternoon. I spent the next 24 hours making the game. I will not lie to you, the game could be hard to understand/master, it may be full of bugs but i'll tell you : i'm proud of myself.
I wanted a social satire game. I could picture those tie guys blindly chasing money without caring about the moment they will fall. And when i added the fact that a player could throw things at others this was so much fun to implement. In the end, i added a "tutotial" to explain the game, it f** up my entire project minutes before i submit. I was thinking "Man my game sucks, noone will enjoy it.". And then i realised something :
I think we all hate all the things we couldn't do in the game. I should have done this, i shouldn't hade added not. But we should embrace everything we've done so far. Making a game is hard. It's an achievement, a celebration to creation. Embrace your game flaws man. Because you're the one that create, make, craft. You're the one who spent tons of hours crying "WHY AREN'T YOU WORKING ????" all along.
THIS is what i can do in a few hours and i never considered myself as a "true" game developer. For the first time in my life, i made exactly every single line of code, every pixel like i planned. This was really a powerful feeling.
Cheers to that feeling and have an awesome day buddy !
Have fun !