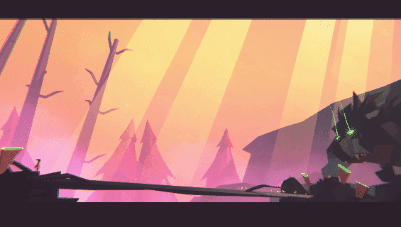 Fallen from the sky, a singular entity must rebuild memories by collecting gold leaves to reconnect with its roots ancestral. By traveling from region to region, it is only by going to meet the living beings of the land from Lemuria that the Kingkaf people will find memories of the existence of the lost kingdom.
Ths is a demo version of the game project King Kaf. The prototype took 4 months to develop. King Kaf is funded by the Region Reunion « aide au prototypage » (FSJV).
Kingkaf is a contemplative runner in which the player takes the role of an amnesiac king who explores the regions of Lemuria in search of his lost kingdom. It will be about avoiding the obstacles in your path to go as far as possible and get the best score.
Loïc Manglou – GAME DESIGN / DEVELOPMENT
Loïc Manglou is President of Collectif Bouftang, (collective bringing together video game professionals in Réunion), trainer in Game Design at ILOI (Institut de l'Image de l'Océan Indien) and Game Designer at Funky Monkey Studios since 2012 . After exploring the mobile market with around twenty published mobile games (Space Lamas, Puzzle Galaxy, Dragon's Rune Arena, etc.) and some Level Design services for other studios (Star Floyd, Jack Barau, 1 click 1 euro , Kazar), he is currently interested in designing authentic gaming experiences.
Aleksand Cazal – ART DESIGN
Alexandre Cazal is a 3D artist and co-founder of TORTOR, an association specializing in the audiovisual field in Reunion Island.
Since 2014, he started as a graphic designer and produced posters / illustrations for companies and associations. But quickly, he specialized in 3D. His experiences are diverse: modeler for the film "yakari", 3D creations of figurines for board games, creation of cutscenes for mobile games "Tsilaosa" … After participating in a Game Jam, he feels ready to create of a mobile game combining advanced aesthetics and storytelling via Level Design.