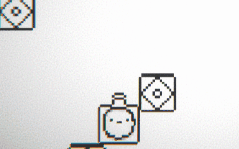 Mysterious experience in a no man's land filled with jolly creatures and intriguing characters. Damn i just don't want to spoil you ! The game is great, play it 🙂 I made ALL the Assets in the JAM (not the music of course… 🙂
Long Run of LD45 Game : « Consciousness in a jar », Loïc Manglou 2019
SPOILER ALERT You play a mysterious consciousness in a jar. Dr Brain is really mean to you. GUILT is allways crying and you have to know why. THE END WILL SURPRISE YOU. Seriously, the end WILL make you say "Whaaaaaat ?" in a good way.
Controls
Left Mouse Click to Jump
Pro-Tips
Don't try to double jump, try to make mini jumps to positionate and adjust for larger jumps
About
I have made all the assets except Debussy's song, in about 15 hours…because making a gamejam with my daughter was REALLY complicated. I had to work when she took a nap etc. It was fun though !!