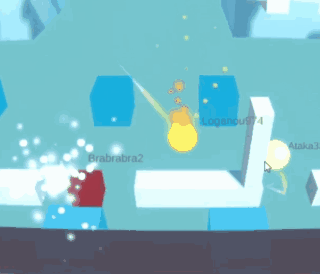 Hi folks,in this « One day, One mechanic », i just made a new Game Mechanics Study / Prototype for Voodoo and Bentô untitled « RollyBally.io ».
The main themes here were : Accessibility through multi-player sessions. This is why the prototype is a One Touch Input System.
You could see that Accessibility in multiplayer games nowadays is a big deal. Concerns are spreading because of the multiplication of this kind of games in the mobile market where inputs are limited.
Designing a « One Touch » Multiplayer experience is really challenging and fun.
About the inspiration, you could think about a simplistic Smash Bros VS Growing games like Agar.io.
Why Smash Bros ? Because in this game, you would have to push enemies out of the screen. The more you can hit, the more you are reppeled hard. In this prototype based on Physics, the more a Ball grows, the more it gain Mass and can then repell weaker enemies.
I thought it was important to simulate the multiplayer experience at this stage too : « Fake it until you make it » is one of Voodoo's greatest tips for prototyping for them. Yes, it's only bots and if you don't tell people there's a great chance they don't even notice it.